World
How bad is China's economic slump? It's impossible to tell
Companies and executives around the world are desperately trying to gauge the severity of China's economic slowdown. But getting a clear picture is very difficult.Growth in the world's second-biggest economy cooled last year to its lowest level in almost three decades, according to government data. Top global brands including Apple (AAPL) and Caterpillar (CAT) have blamed weakness in China for their disappointing earnings.The situation could beevenbleaker than China's official statistics suggest, according to many analysts."The Chinese published GDP numbers are absolute garbage," said Leland Miller, CEO of advisory firm China Beige Book. "It's certainly the consensus that these numbers are unreliable."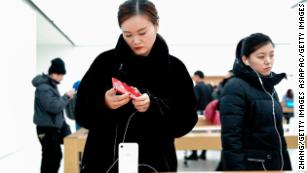 Apple's problems sound alarm bells about China's futureHis firm gathers data from thousands of companies across different industries in China to come up with its own picture of what's happening, drawing its name from the US Federal Reserve's Beige Book report. Miller said the Chinese economy is "much, much weaker" at the moment than Chinese government figures suggest and things are unlikely to turn around anytime soon.Figuring out the likely length and depth of the slumpis important for businesses making decisions on investments and hiring, and for investors working out where to put their money. China is grappling with the fallout from government efforts to crack down on risky lending and the trade war with the United States.Some experts suspect China's National Bureau of Statistics, which reports much of the country's data, is more focused on making the government look good rather than giving an accurate reflection of its economic health.
The slowdown has cast gloom over Chinese businesses."The economy will get increasingly worse in the coming months," said Wei Bingyu, the owner of an industrial paint factory in Beijing. He blamed the difficulties on the trade war and other issues.A closely watched independent survey that measures the health of China's huge manufacturing sector sank to its lowest level in nearly three years last month.
Chinese consumers feeling the squeeze
Investors are scrutinizing the economy for signs of weakness, which have so far included declining industrial profits and falling exports.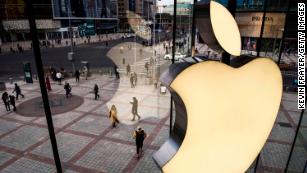 Who's hurting (and who isn't yet) from China's economic slowdownThe behavior of Chinese consumers is a key focus. Spending by Chinese shoppers rose by almost 10% last year, according to official data. But the country's huge car market shrank in 2018 for the first time in around 20 years, and retail sales over the Lunar New Year holiday this month grew at their slowest pace in more than a decade.Official Chinese data is likely "overstating consumption growth," Julian Evans-Pritchard, senior China economist at Capital Economics, said in a recent note to clients. He estimated that consumer spending in China's big urban areas shrank by about 3% last year, suggesting middle-class shoppers are tightening their belts.That tallies with what some business owners are saying. Zhou Chang, the owner of a gym in central Beijing, told CNN that his customers are spending less.Using a gym "is not quite like eating, clothing, housing or commuting," Zhou said. "Those are must-haves, while bodybuilding is not." As the economy slows, "many gyms have temporarily shut down or gone bankrupt," he added.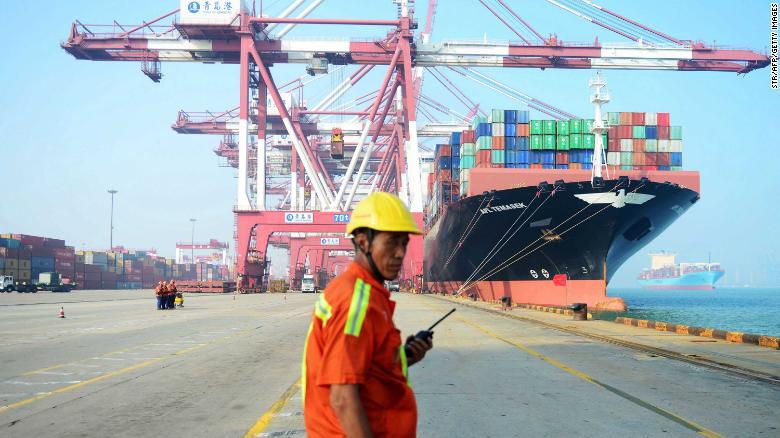 Some Chinese businesses are blaming the trade war with the United States for worsening conditions.
Is stimulus going where it's needed?
The Chinese government says fears over the economic slowdown are overblown.
Private businesses are going through a long winter."

GUO YUCHENG, OWNER OF A DRUG MANUFACTURING BUSINESS IN NORTHERN CHINA
In a speech at the World Economic Forum in Davos last month, Vice President Wang Qishan urged investors to stop freaking out about the economy. "There will be a lot of uncertainties in 2019, but something that is certain is that China's growth will continue and will be sustainable," he said.But Chinese officials have shown signs of concern. They have attempted to boost growth through measures like tax cuts, more infrastructure spending and looser monetary policy.It's still unclear how much the moves will do to halt the slowdown because a lot of the extra funds they free up go to inefficient state-run enterprises rather than private businesses, analysts say.Many private companies in China typically rely on shadow financing, murky forms of lending that are kept off banks' official balance sheets. Regulators have cracked down on those practices in recent years.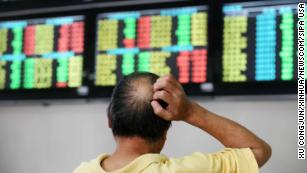 China's stock market had a terrible 2018. This year could be a lot better"It is extremely difficult to get financial leverage as a private business," said Guo Yucheng, the owner of a drug manufacturing business in the northern province of Jilin.He recently merged his company with a government-owned one in order to improve his chances of gaining access to financing. He predicted it will take as long as two years for measures like tax cuts to make a real difference for struggling companies."There are so many businesses, like ours, who are trying to just get by every month," Guo said."Private businesses are going through a long winter."