Desmond Tutu, the first Black Archbishop of Cape Town, South Africa, and who received the Nobel Peace Prize in 1984 for his efforts to end apartheid, has died at the age of 90.
In a statement confirming his death on Sunday, South African President Cyril Ramaphosa expressed his condolences to Tutu's family and friends, calling him "a patriot without equal."
Tutu played a key role in South Africa's transition from the apartheid era, including serving as chairman of the Truth and Reconciliation Commission at the direction of then-President Nelson Mandela.
In his later years, he remained active with the Desmond Tutu Peace Foundation and other organizations.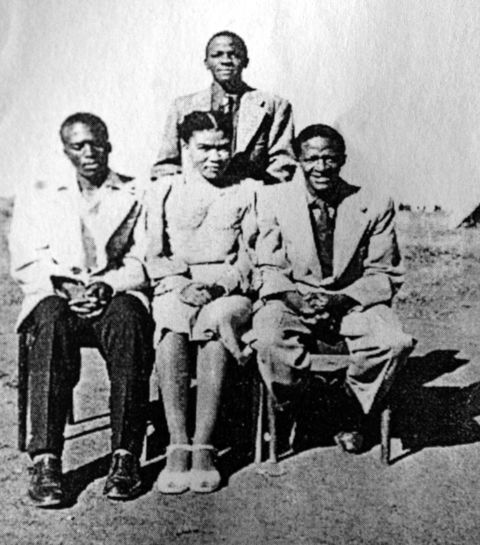 Tutu is seen at right with other members of the editorial staff of the Normalife, a publication produced by the students of the Pretoria Bantu Normal College in South Africa. Tutu graduated from the college with a teacher certificate in 1953.Sunday Times/Gallo Images/Getty Images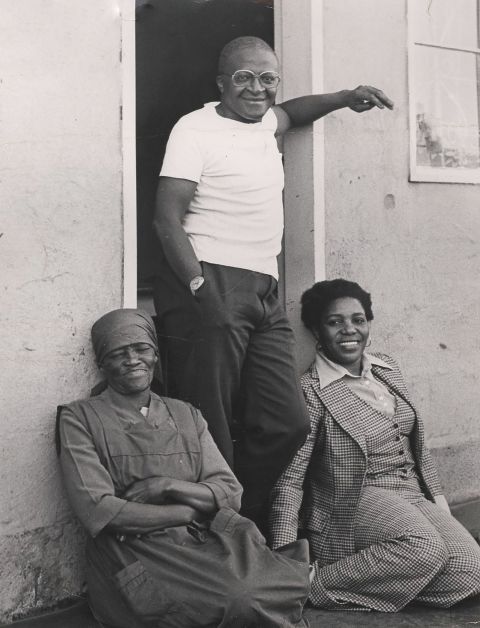 Tutu is seen with his mother-in-law, Johanna Shenxane, and his wife, Leah, in the Kagiso township west of Johannesburg, circa 1970. Tutu resigned as a teacher in 1957, protesting government restrictions on education for black children. He was ordained as an Anglican priest in 1961, and in 1975 he became the first black appointed Anglican dean of St. Mary's Cathedral in Johannesburg.Africamera/Gallo Images/Getty Images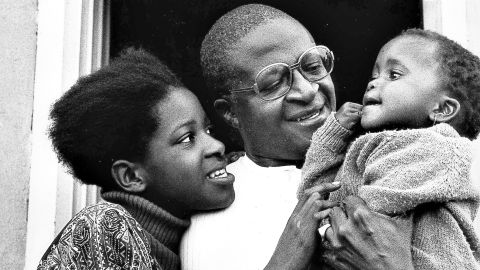 Tutu and his wife have four children together: Trevor, Theresa, Naomi and Mpho.Gallo Images/Gallo/Getty Images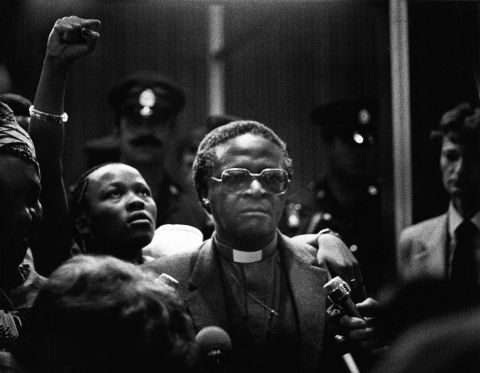 Tutu returns from a trip to the United Nations in April 1981. He was consecrated bishop of Lesotho in 1976. In 1978, he became the first black secretary general of the interdenominational South African Council of Churches.Gallo Images/Gallo/Getty Images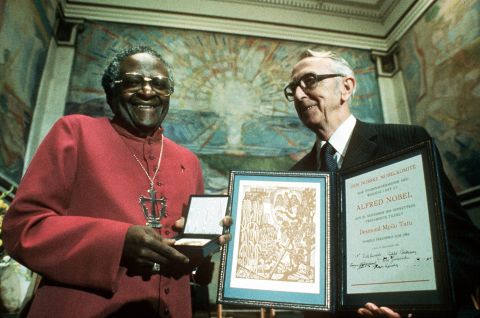 Tutu receives the 1984 Nobel Peace Prize during the annual ceremony in Oslo, Norway.HELMUTH LOHMANN/AP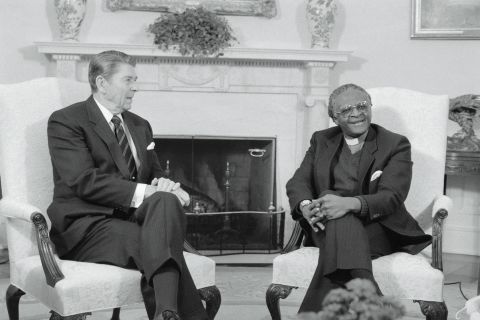 US President Ronald Reagan meets with Tutu in the White House Oval Office in December 1984. Tutu denounced the Reagan administration's policy toward the South African government as "immoral" and "un-Christian."Bettmann Archive/Getty Images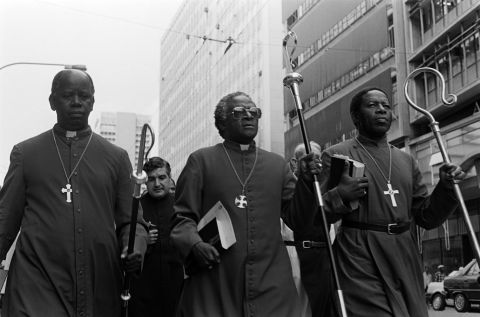 Tutu, center, leads clergymen through Johannesburg in April 1985. They were heading to police headquarters to hand a petition calling for the release of political detainees. AFP/AFP/Getty Images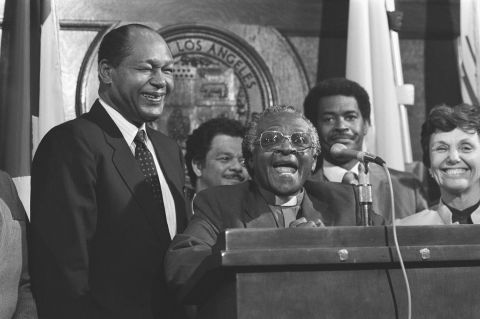 Tutu and Los Angeles Mayor Tom Bradley attend a news conference in Los Angeles in May 1985. Tutu, an outspoken opponent of South Africa's apartheid regime, was on a four-day fundraising tour in California. Bettmann/Bettmann/Bettmann Archive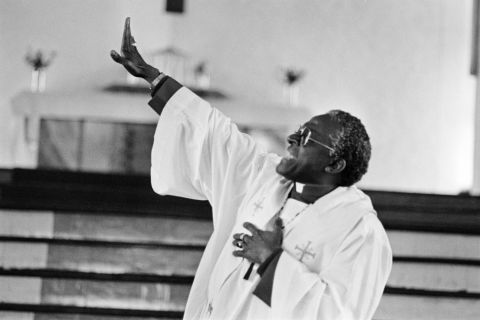 Tutu delivers a sermon at the Regina Mundi Church in Soweto, South Africa, in June 1985.AFP/AFP/Getty Images
Tutu mediates a dispute between police in Soweto and mothers of children who had been arrested.Louise Gubb/Corbis/Getty Images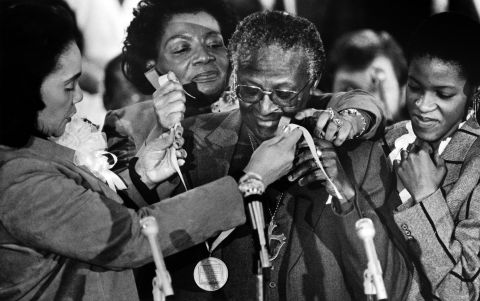 Tutu receives the Martin Luther King Jr. Award for Non-Violence while visiting Atlanta in January 1986. At left is King's wife, Coretta Scott King. King's daughter Christine is behind Tutu, and Tutu's daughter Naomi is at right.AFP/AFP/Getty Images
Coretta Scott King, US Vice President George H.W. Bush and Tutu sing the civil rights hymn "We Shall Overcome" during a service honoring Martin Luther King Jr. in January 1986.Bettmann Archive/Getty Images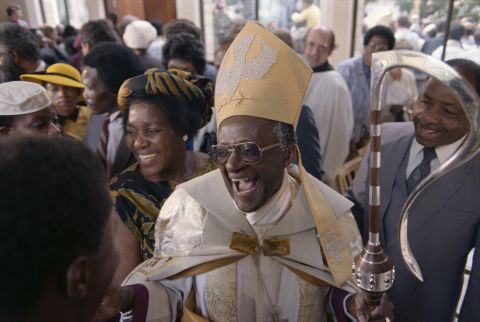 In 1986, Tutu was elected archbishop of Cape Town, becoming the head of the Anglican Church in South Africa, Botswana, Namibia, Swaziland and Lesotho.David Turnley/Corbis//VCG/ Getty Images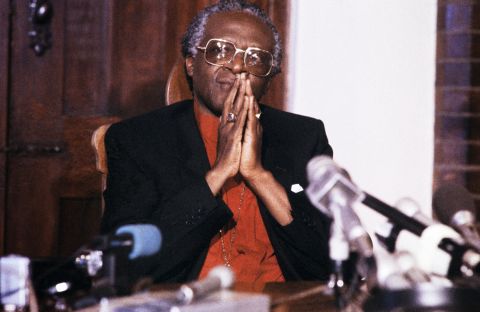 During a 1986 news conference in Johannesburg, Tutu calls for economic sanctions against South Africa to fight the apartheid system of racial segregation. AFP/AFP/Getty Images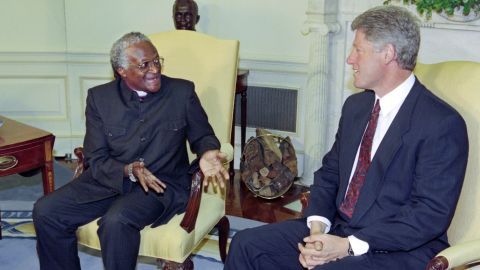 Tutu meets US President Bill Clinton in 1989.LUKE FRAZZA/AFP/Getty Images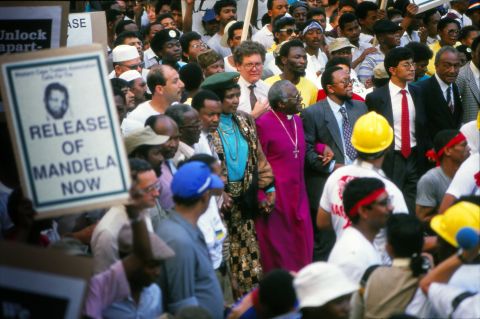 Tutu and Winnie Mandela march in Cape Town to protest the continued imprisonment of anti-apartheid leader Nelson Mandela in February 1990. Later that day, South African President F.W. de Klerk would announce Mandela's release.Susan Winters Cook/Hulton Archive/Getty Images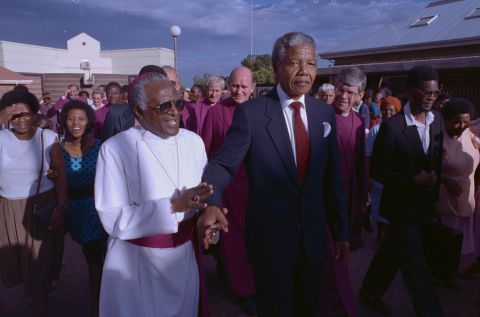 Nelson Mandela, after being released from prison, visits Tutu in Johannesburg.David Turnley/Corbis/VCG/Getty Images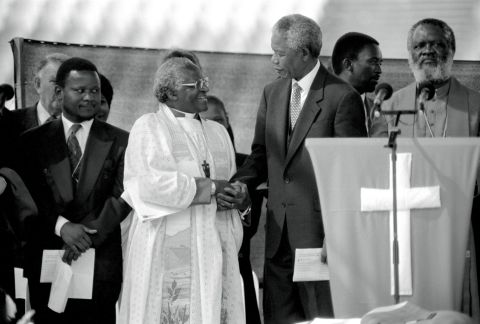 Tutu greets Mandela at a rally, weeks before South Africa's historic democratic election in 1994.Per-Anders Pettersson/Hulton Archive/Getty Images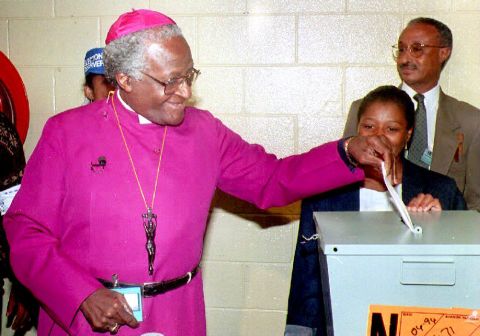 Tutu casts his vote in South Africa's first election that allowed citizens of all races to vote. "You just want to yell, dance, jump and cry all at the same time," he said.ANNA ZIEMINSKI/AFP/Getty Images
Tutu stands with Mandela after Mandela was elected president in 1994.Jerry Holt/The Star Tribune/AP
Tutu is seen with Britain's Queen Elizabeth II as she visited Cape Town in 1995.Tim Graham/Getty Images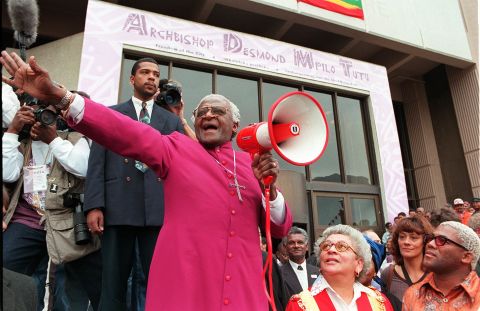 Tutu joyfully shouts "I am free! We are all free!" outside the Civic Centre in Cape Town in 1998. It was before a ceremony where he received the Freedom of the City award. In 1998, Tutu retired as the archbishop of Cape Town and became archbishop emeritus.ANNA ZIEMINSKI/AFP/Getty Images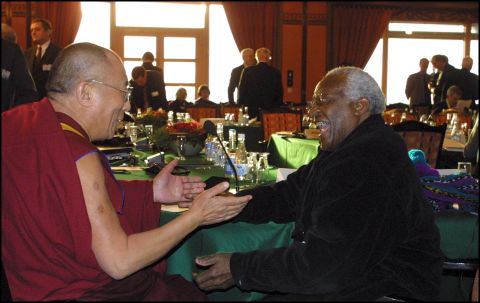 Tutu and the Dalai Lama attend the Nobel Peace Prize Centennial Symposium in 2001.Alexis DUCLOS/Gamma-Rapho/Getty Images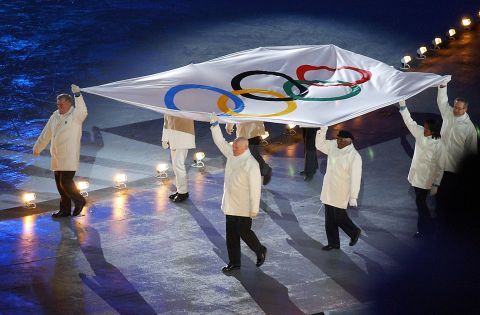 Tutu and other dignitaries escort the Olympic flag during the opening ceremony of the 2002 Winter Olympics in Salt Lake City.ROBERTO SCHMIDT/AFP/Getty Images
Tutu hugs South African President Thabo Mbeki after turning over the Truth and Reconciliation Report in 2003. Tutu chaired the commission that produced the report.AFP/Getty Images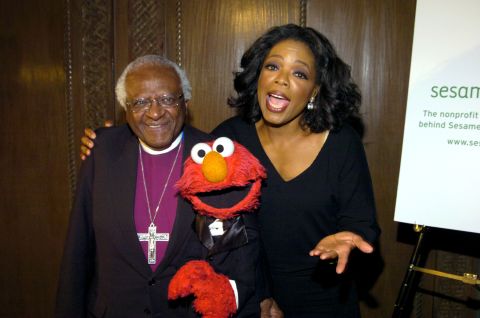 Tutu, Elmo and Oprah Winfrey appear at the Sesame Workshop's Benefit Gala in 2004.KMazur/WireImage/Getty Images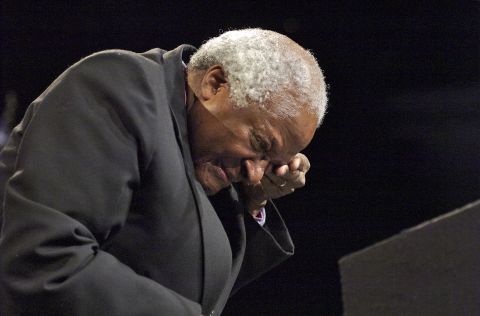 Tutu wipes away tears after hearing Peter Gabriel sing "Biko" in Johannesburg in 2007. The song is about the death of anti-apartheid activist Steve Biko.Bloomberg/Greg Marinovich/Bloomberg/Getty Images
Tutu talks with Mandela at an event in Johannesburg in 2008.Themba Hadebe/AP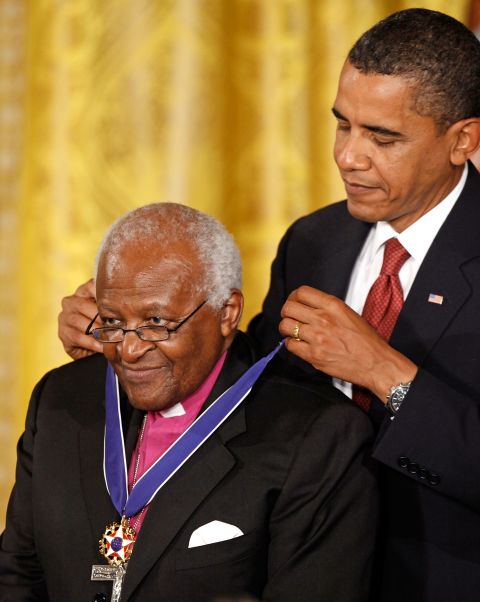 US President Barack Obama presents Tutu with the Presidential Medal of Freedom, the nation's highest civilian honor, in 2009.Chip Somodevilla/Getty Images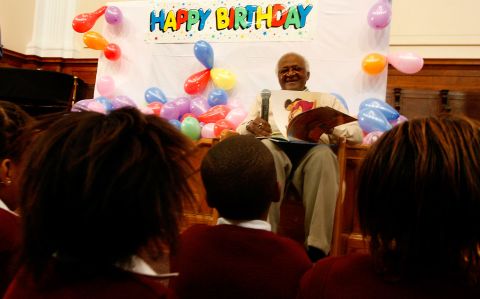 Children in Cape Town sing "Happy Birthday" to Tutu as he celebrates his 78th birthday in 2009.Gallo Images Editorial/Getty Images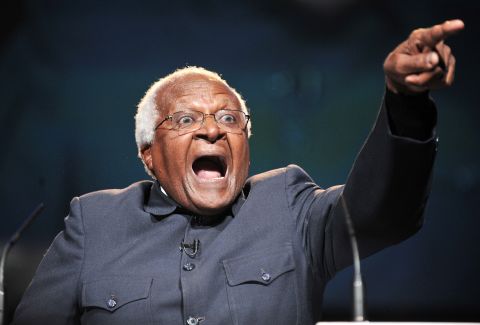 Tutu delivers a speech during a 2009 conference for "One Young World," the world's largest gathering of young leaders.CARL DE SOUZA/AFP/Getty Images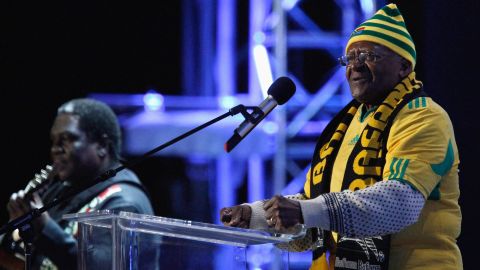 Tutu speaks on stage during a FIFA World Cup celebration concert in 2010. South Africa was hosting the soccer tournament.Michelly Rall/Getty Images for Live Earth Even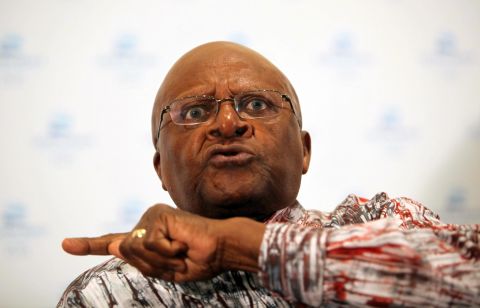 Tutu speaks out against the South African government for its failure to grant the Dalai Lama a visa to attend Tutu's 80th birthday celebrations in 2011.Gallo Images/Getty Images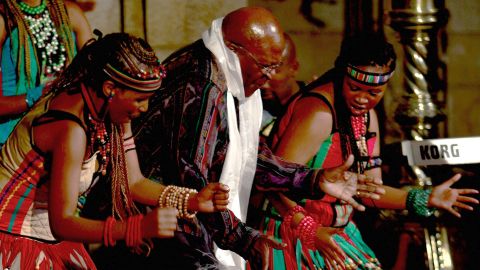 Tutu dances at the launch of his biography "Tutu: The Authorised Portrait" in 2011.Michelly Rall/Getty Images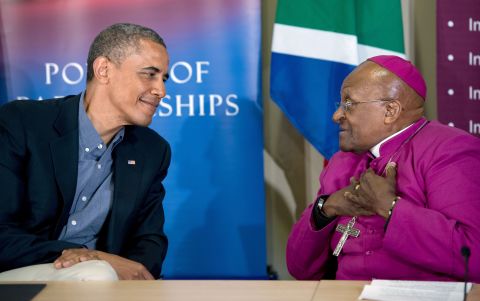 Obama speaks with Tutu in Cape Town following a tour of the Desmond Tutu HIV Foundation Youth Centre in 2013.SAUL LOEB/AFP/Getty Images
Tutu leads a service in Cape Town after Mandela's death in 2013.RODGER BOSCH/AFP/Getty Images
Tutu prays during a vigil in Cape Town for the victims of a mass shooting in Orlando in 2016.Sumaya Hisham/Corbis/Getty Images
Tutu is comforted by Dean Michael Weeder as he cries during a Mass to mark his 85th birthday in 2016.Rodger Bosch/AFP/Getty Images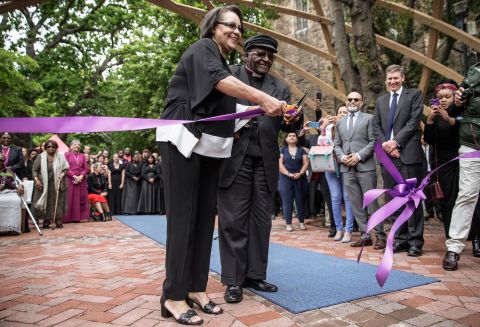 Tutu, accompanied by Cape Town Mayor Patricia de Lille, cuts a ribbon to unveil the "Arch for the Arch" in 2017. The architectural structure commemorates Tutu's life and work and also represents the 14 chapters of the South African constitution.Gianluigi Guercia/AFP/Getty Images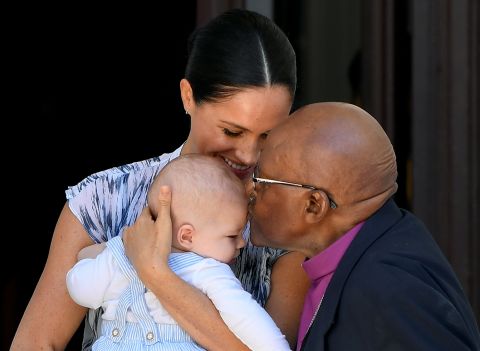 Tutu kisses Archie, the son of Britain's Prince Harry and Meghan, the Duchess of Sussex, in September 2019. The royal family was visiting South Africa.Toby Melville/Pool/Getty Images
Tutu and his wife, Leah, show their support for South Africa's rugby team in this photo taken in October 2019. South Africa went on to win the Rugby World Cup.Benny Gool/AP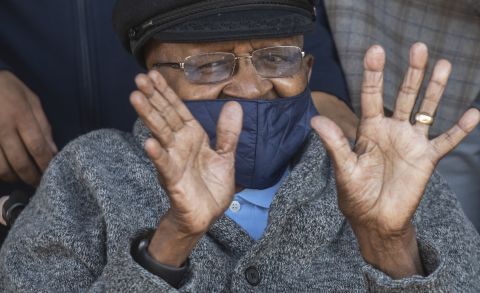 Archbishop Emeritus Desmond Tutu visits the Brooklyn Chest Hospital vaccination site on May 17, 2021 in Cape Town, South Africa.Gallo Images via Getty Images