Last month, Senegal captain Kalidou Koulibaly and goalkeeper Edouard Mendy became the latest high-profile footballers to move to Saudi Arabia, as both left Premier League club Chelsea for a league eagerly hoovering up talent.
After years languishing in the distant reaches of fans' minds, the Middle Eastern nation is fast becoming one of football's hottest new destinations, and not just temperature-wise.
Reigning Ballon d'Or holder Karim Benzema has left Real Madrid, where he won five Champions League titles, for Al-Ittihad while another Frenchman, 2018 World Cup winner N'Golo Kante, will join him at the Pro League champions after seven years at Chelsea.
With the likes of Manchester City's Algeria winger Riyad Mahrez and Chelsea's Gabon striker Pierre-Emerick Aubameyang also linked with possible moves, BBC Sport Africa reflects on the role some Africans have played in Saudi Arabia's top flight.
Popular place
Since Saudi Arabia's leading division turned professional in 2008, nearly 400 footballers from the continent – representing some 40 African countries – have plied their trade in it.
Some of the most high-profile include Egypt's four-time Nations Cup-winning goalkeeper Essam El Hadary and former BBC African Footballer of the Year Mohamed Barakat, Guinean great Pascal Feindouno and the Ghana pair of Sulley Muntari and the late Christian Atsu.
More recently, Nigeria's Odion Ighalo left Manchester United for a country where compatriot Ahmed Musa had starred for a handful of years for Al Nassr, helping them to one of their nine title wins.
The Riyadh-based club was where Vincent Aboubakar, the top scorer with eight goals at last year's Nations Cup, was based until the Cameroon striker was effectively pushed out – given the limit of eight foreigners per team – to make way for a certain Cristiano Ronaldo, despite the latter's concerns.
Portugal's multiple Ballon d'Or winner duly delivered two hat-tricks last season, but five of the other six hat-tricks were all scored by Africans – Zimbabwe's Knowledge Musona and Moroccan trio Karim El Berkaoui, Mohamed Fouzair and Abderrazak Hamdallah.
In total, 41 Africans – representing 18 different countries – played in the Pro League last season.
Sharp-shooters
For the first 19 years of the competition, which started in 1975, local players always led the scoring charts, but that all changed when Senegalese striker Moussa Ndaw topped the table in the 1993-94 season.
The floodgates opened. Players from Angola, Ghana, Ivory Coast and Morocco were soon achieving the same feat, with Ighalo adding Nigeria's name to that list in 2021-22.
In total, Africans have led the scoring charts 14 times in 48 years, with no player making more impact in front of goal than Morocco international Hamdallah – who has finished top of the pile three times.
His 34 league goals in 2018-19 are a record and he finished last season with 21 – enough to see him one ahead of his closest rival, Brazilian Talisca, two better than Ighalo and seven clear of Ronaldo.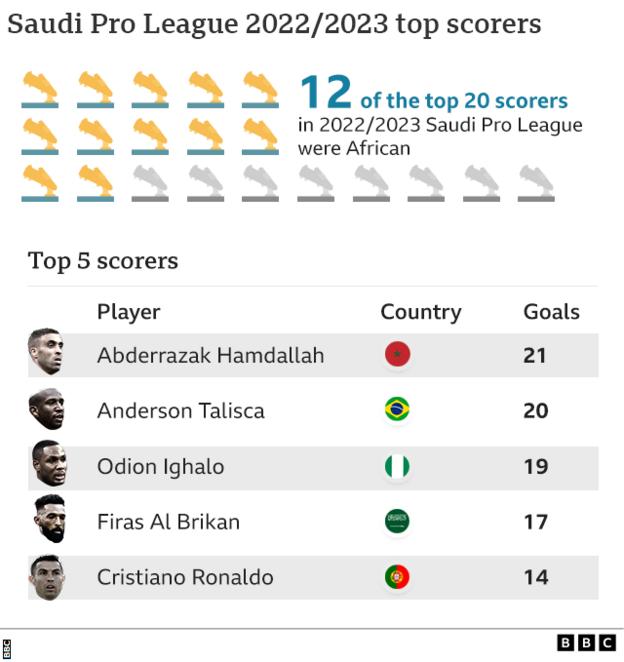 "The general belief here in Morocco is that players who play in these Gulf leagues, which are not seen [to be] as competitive as Europe, should not be called up for the national team," says Moroccan football expert Jalal Bounaour.
"But with the efforts being made by football authorities in Saudi Arabia, the United Arab Emirates and Qatar to promote their league's competitiveness, by targeting quality players in Europe, attitudes are possibly changing.
"Hamdallah has been outstanding in the last season scoring 21 goals in 26 games, but he has yet to be as efficient with the national team."
Hamdallah, who made four World Cup appearances during Morocco's historic run to the semi-finals, is sixth on the all-time list of top scorers in Saudi's top league but may find future opportunities restricted by the arrival of Benzema to compete for his place in the Al-Ittihad side.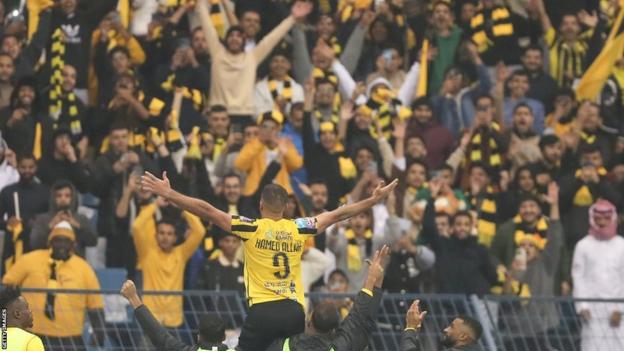 Coaching desert
Al-Ittihad's title-winning coach, Nuno Espirito Santo, may have been born in what is today Sao Tome and Principe, but since he entered the world a year before the islands achieved independence it means no African coach will lead a team in next season's Pro League, which starts on 11 August.
Nuno's quirky timing aside, the other prime reason for the lack of African coaches is that South Africa's Pitso Mosimane – one of the continent's most decorated coaches with three African Champions League titles – recently left Al-Ahli.
Despite guiding the popular club back into the top flight at the first time of asking, the 58-year-old left his post a year early after complaining about delayed or non-existent payments from his club, an issue that would seem at odds with the riches now being handed out in Saudi Arabia.
Bolt from the Blues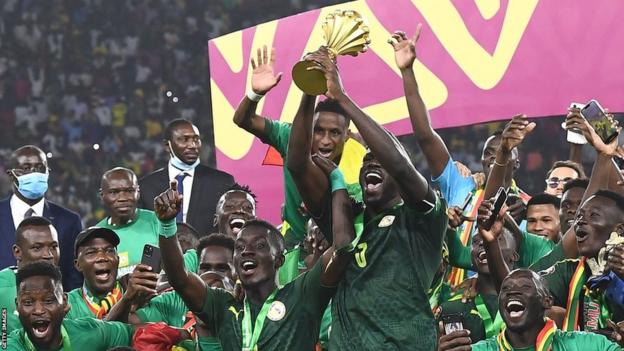 Two years on from winning the European Champions League and being named Fifa's Best Goalkeeper, Edouard Mendy has moved to Saudi Arabia's second-largest city Jeddah to play for Al-Ahli.
Having fallen out of favour at Chelsea, the Senegalese joins one of Saudi Arabia's most celebrated sides, even though the three-time champions won promotion in May to return to the top flight after a first season in the second tier.
Meanwhile, Mendy's fellow 2021 Africa Cup of Nations winner Koulibaly, 32, can barely have expected that a year after leaving Napoli for London he would be on his way to record 18-time Saudi champions Al-Hilal after the Blues' disappointing Premier League campaign.
Record four-time Asian champions Al-Hilal finished third last season and, with the likes of Mali's Moussa Marega and former Wolverhampton Wanderers midfielder Ruben Neves in their ranks, they aim to recapture a league title they had won five years out of six prior to Al-Ittihad's first championship success in 14 years last time out.
Source: BBC