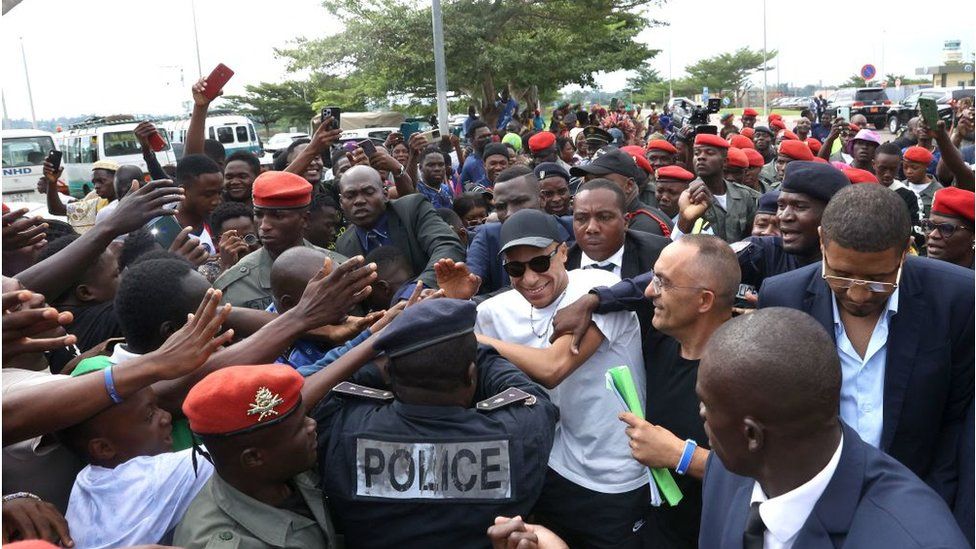 The sporting star has also been meeting other Cameroonian sports figures, such as MMA star Francis Ngannou, with whom he was pictured smiling.
He also played basketball with former Chicago Bulls star Joakim Noah at Noah's court, where he was pictured with a crowd of onlookers watching the game. He later played football against the Cameroonian team Vent d'Etoudi FC, Reuters reports.
Mbappé is also carrying out humanitarian work on his trip on behalf of his foundation, which seeks to help young people achieve their goals.
Cameroonian journalist Henry Tataw Ekambi told BBC Newsday that one of the first things Mbappé did when he landed was to visit a school for "children with hearing and speech disabilities that his foundation is funding".
"We are pushing hard for a bright future in Cameroon," Reuters quotes him as saying.
The player's future at his current club PSG has been unclear after he said he would not extend his contract with the Parisian side beyond 2024.
Mbappé, who joined PSG in 2017 initially on loan from Monaco before a 180m euros (£165.7m) transfer, has scored 212 goals in 260 games for the club.
He also played on the French team when they won the World Cup in 2018.