General News
Akonta Mining, Charles Bissue, Others Under Investigations over Galamsey – Special Prosecutor
Public officials including some officials of the Lands Ministry, the Forestry Commission, and the dissolved Inter-Ministerial Committee on Illegal Mining (IMCIM), are being investigated for their alleged involvement in illegal mining activities in the country. 
This is an investigation which has been started by the Special Prosecutor Kissi Agyebeng to get to the bottom of the alleged involvement of these high profile public officials in the illegal mining activities which are threatening the peace and security of the country.
In a press release issued on Monday, October 10, the Office of the Special Prosecutor said there is an ongoing enquiry into allegations of use of public office for profit against Charles Bissue during his tenure as secretary to the IMCIM.
The investigations will consider the issues regarding the seizure and management of excavators, machinery, road vehicles and gold nuggets.
This is based on an investigative documentary by Tiger Eye P.I.
"The investigation further targets the activities of Akonta Mining Limited and other companies; nationals of foreign countries allegedly involved in illegal mining, and allegations of corruption and corruption-related offences against some Municipal and District Chief Executives and political party officials," the press release added.
Please find below the full text of the press release by the Office of the Special Prosecutor.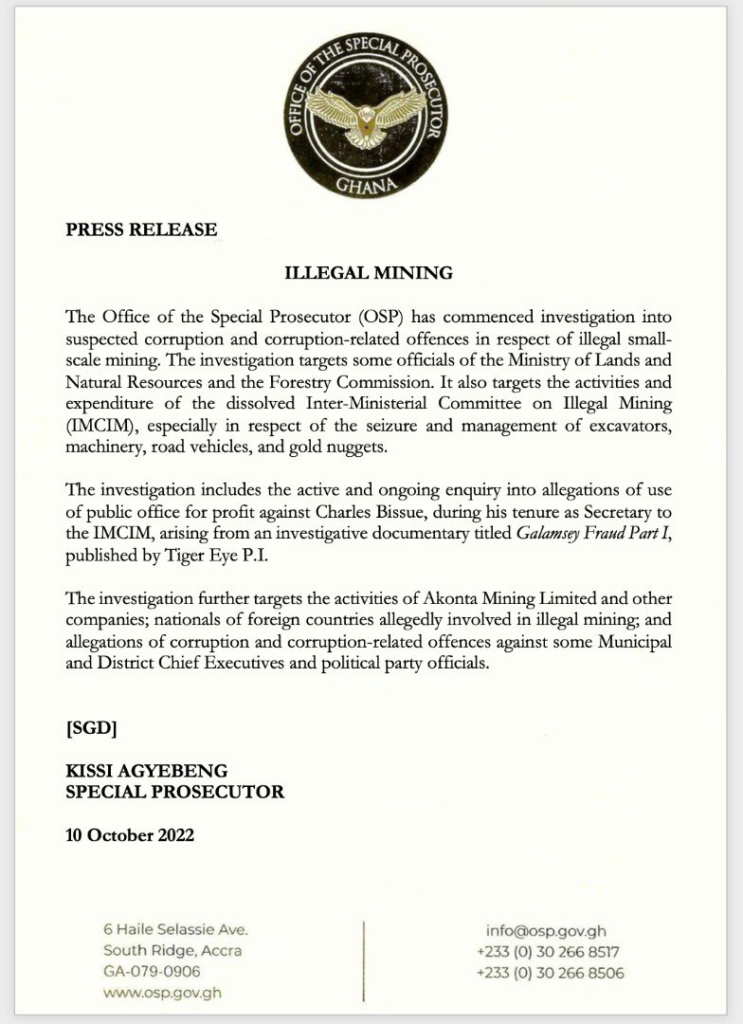 Source: Ghanainnews.ca